The AAUW Lakewood Branch enjoys Diversions — one-time events that are entertaining, educational, and often "outside the box." In the past we have experienced outdoor adventures, attended cultural and historical programs, and explored the world of chocolate.
---
Diversions 2020
February 14, 2020
11:00 a.m.
Valentine's Day Tea in Colorado Springs
Lakewood branch will enjoy a Valentine Tea at the McAllister House Museum in Colorado Springs, February 14, 11 a.m.  We will carpool; meeting place to be determined closer to date.  The cost including tax and tip is $35 or $38 for gluten free.  It usually includes cucumber sandwiches, scones, brownie, fruit and all the tea you want.  Included is a private 40-minute tour of the museum's Victorian house.  They have hats if you want to dress up.
Please RSVP to Elnore Grow,  eagrow@wispertel.net, who needs to pay them by Feb 1, so please send a check to Elnore Grow, 17394 Jurassic Road, Morrison, CO 80465, before Jan 31.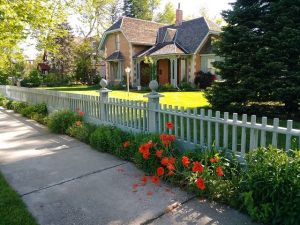 ---
2019 Diversions
July 11, 7:30 p.m.
The Arvada Center will again be having "Mozart Under the Moonlight" on Thursday, July 11 at 7:30 pm. Seats on the grass are $20, and covered seats are $35 to $50. If you're interested in attending, please go online and buy your tickets. Some used the lawn last year, and it was pretty steep and crowded. Let Elnore Grow know if you're planning to attend for possible carpooling. 303-697-6088
July 12, 2:30 p.m.
Central City Opera: "Madame Butterfly." Elnore has 2 tickets in the front row for "Madame Butterfly" for the Friday, July 12, 2:30 matinee. Last year we went early and had lunch at the Casino, followed by a free lecture across the street 45 minutes prior to the opera. Please go online and buy your tickets. If anyone is interested, please let Elnore know. 303-697-6088
August 2, 2:30 p.m.
Central City Opera: "Billy Budd, the Sailor" is by Benjamin Britten and is the story of a sailor in a book written by Herman Melville. It is an all-male cast. Elnore Grow has 2 tickets for "Billy Budd, the Sailor" for Friday, August 2, 2:30 matinee. If you are interested in one ticket, let me know. (Ticket is $30.) If you would like more, please go online and buy them. The other tickets are more expensive.
---
Past 2019/2018 Diversions
June 12, 2019
Best of Boulder Walking Tour and Lunch
May 2, 2019
HATTITUDE–DCPA Fundraiser
April 6, 2019
Motones vs the Jerseys, Boulder Dinner Theater
February 15
4-Course Luncheon Tea at the Rose Tea Room at Weathered, LLC in Broomfield.
October 22, 2018
Rambler Ranch Museum in Elizabeth
March 25, 2018
"Always, Patsy Cline" at the Boulder Dinner Theater